Plant With Purpose, a global nonprofit organization committed to environmental restoration and rural community development, proudly celebrated the graduation of the HoiLu watershed in Thailand on April 24, 2023. The momentous occasion was marked by a vibrant ceremony held at a church partner's campus, attended by local community members, leaders, and representatives from Plant With Purpose.
The graduation was a testament to the remarkable progress achieved by the farmers in the HoiLu watershed and the unwavering dedication of Plant With Purpose's partners in supporting the local community.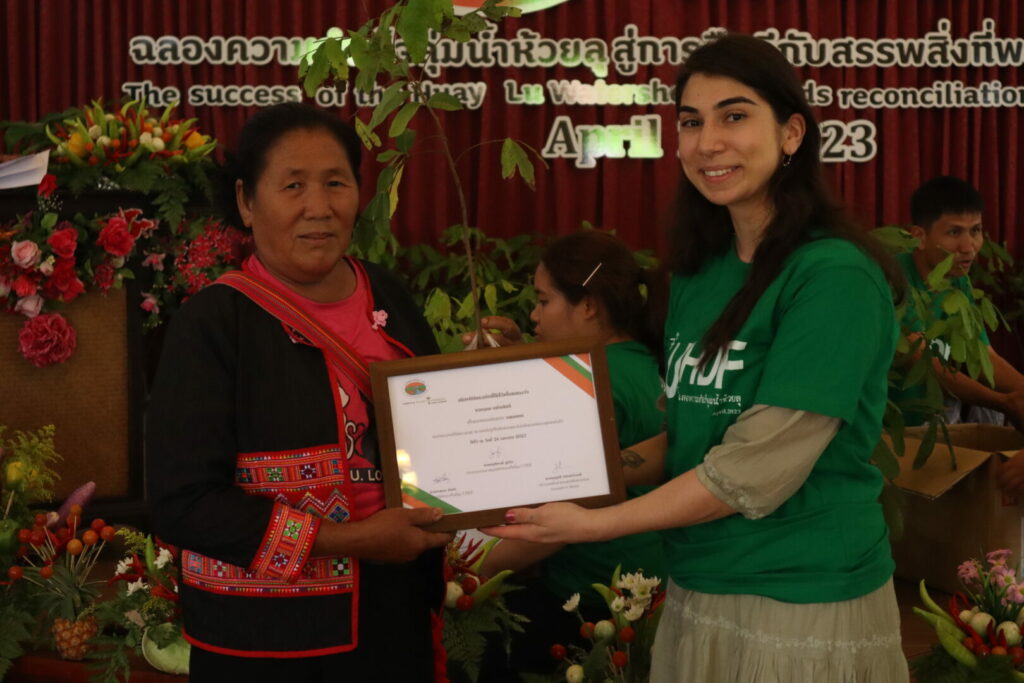 "Communities in the HoiLu watershed have invested much effort over more than 20 years in improving their farms, saving, and restoring local forests." stated Robert Morikawa, Plant With Purpose's Senior Director, Innovation Lab, as he reflected the impact of the watershed's graduation, " The development of comprehensive community forest plans and maps has allowed communities to better advocate with local authorities and demonstrate that they are part of the solution in protecting forests, not part of the problem."
The ceremony began with a traditional La Hu welcome dance. The La Hu tribe is one of a few ethnic minority groups that Plant With Purpose's partner serves in Northern Thailand. These tribes experience marginalization and a lack of rights, such as land ownership, afforded to other Thai citizens. Following the welcome dance, everyone entered the church for worship and a sermon in which the pastor preached on ways we can show care as Christians, including for ourselves, others, and the environment. Community leaders, program leaders, and a member of parliament gave speeches commending farmers in the watershed and Plant With Purpose's partner for their support. Farmers in attendance received certificates recognizing their exemplary achievements in farming and reforestation. Eighty-five percent of participant farmers in the HoiLu watershed are actively participating in reforestation activities and caring for their community forest through activities such as creating fire breaks to control the spread of wildfires. After awarding certificates, there was a closing worship song and lunch was provided by members of the community. 
Prior to graduation, Plant With Purpose conducted a graduation readiness assessment to learn more about the progress farmers have made in HoiLu. The assessment reported that 75% of households in HoiLu are still in a savings group and actively saving and 65% of participant households are members of a farmer field school (FFS) where they conduct experiments to learn how to improve their farming techniques. During the participatory workshops component of the assessment, 61% of participants shared a story about reconciliation with others and how agroforestry creates more biodiversity which contributes to greater food and product availability as well as better access to propagation materials for agriculture. These and other positive results gave Plant With Purpose's partner confidence to celebrate and graduate the HoiLu watershed.
As the HoiLu watershed graduates from Plant With Purpose's program, it represents a powerful testament to the potential for transformation when communities are provided with the necessary tools, resources, and support. Plant With Purpose remains dedicated to its mission and looks forward to further collaborations and successes in empowering communities across the globe.
---
About Plant With Purpose: Plant With Purpose is a leading Christian environmental organization. Working in eight countries, Plant With Purpose is spearheading initiatives for environmental restoration, poverty alleviation, and spiritual renewal. Through a holistic model focused on community-led innovation and leadership, global communities are equipped to reverse structural and environmental causes of rural poverty.